Transform Your Skin With Our Medi-facial Treatments
DermaGlo's Medi-facial Treatment in Bangalore
In every nook and corner of the city, whether it's the bustling streets of Bangalore or the serene neighbourhoods, you're bound to come across a beauty salon or a dermatology clinic. This prevalence underscores the fact that the people of Bangalore have a general fondness for indulging in skincare and self-pampering. Amidst this plethora of options, the concept of Medi-facial treatment stands out, offering a revolutionary approach to skincare.
While many individuals might not take skincare seriously, the truth is that significant improvements are attainable. Factors like genetics, the aging process, and the external environment can certainly influence the radiance of one's skin. It's here that modern advancements in the form of Medi-facials come into play, yielding remarkable and transformative results.
Medi-facial treatment, when thoughtfully tailored to individual needs, holds the potential to combat acne scars, revitalise lacklustre skin, and minimise the telltale signs of aging. The allure of these treatments has recently captured the attention and imagination of beauty enthusiasts across Bangalore.
At DermaGlo, we take pride in offering a diverse range of technologically enhanced Medi-facial treatments. Our commitment extends to ensuring that these treatments remain accessible at affordable prices, welcoming one and all to experience their skin's potential transformation. Through meticulously designed sessions of Medi-facial treatment, we aim to not only restore but also repair the skin, unveiling a luminosity that's unparalleled. The radiance attained is akin to witnessing a newfound glow, leaving you amazed by the 'Wow' results achieved.
Know The Benefits Of Medi-facials Treatment
Medi-facial treatment is an advanced skincare procedure that combines medical-grade techniques with traditional facials, aiming to address specific skin concerns like aging, acne, and pigmentation. Administered by licensed professionals, it involves personalised assessments, exfoliation, extraction, and nourishing serums, providing a comprehensive and rejuvenating skincare experience. Unlike regular facials, a Medi-facial treatment is tailored to individual needs and often incorporates technologies like chemical peels, microdermabrasion, and specialised masks for more impactful results.
Some of the key benefits of a Medi-facial treatment:
Minimises acne, blemishes, and promotes clearer skin.
Minimises the appearance of aging indicators, including wrinkles and fine lines.
Enhances skin texture through advanced exfoliation methods.
Evens out skin tone and reduces hyperpigmentation issues.
It is a non-invasive procedure for a fresher, youthful appearance.
It follows a customised approach based on individual skincare needs.
Nourishes skin with specialised serums and nourishing masks.
It can be considered as a professional care for lasting, noticeable skin improvements.
The best place to get a Medi-facial in Bangalore is DermaGlo, as we have the right expertise, certified professionals, and advanced technology to give you the right treatments.
A Medi-facial Treatment Who Should Consider Them?
If you're wondering about Medi-facial treatments and whether they're right for you, look no further. A Medi-facial treatment offers a rejuvenating experience that combines medical expertise with a relaxing spa-like ambience. These procedures are designed to address a range of skin issues, effectively contributing to the improvement of both the health and aesthetic of your skin.
Are you seeking a solution for your skin woes? Medi-facials in Bangalore are a popular choice. Tailored to your specific needs, these treatments can address issues such as acne, dullness, fine lines, and more.
Medi-facial treatments go beyond traditional facials, as they often involve medical-grade products and advanced techniques. If you have specific skin goals, like improving texture, reducing hyperpigmentation, or boosting collagen, these treatments could be a great option. Whether you have sensitive, oily, or aging skin, there's likely a Medi-facial treatment that's perfect for you.
The Extensive Range Of Medi-facial Treatments At DermaGlo
Introducing an unparalleled realm of skincare transformation, DermaGlo presents a comprehensive spectrum of cutting-edge Medi-facial treatments. Step into a world where beauty meets science, as we unveil our extensive array of transformative skincare solutions designed to rejuvenate and enhance your natural radiance.
DermaGlo Acne Med-facial Treatment
Experience the transformative Dermaglo Acne Medi-Facial in Bangalore, which spans over 30 minutes and encompasses a comprehensive range of treatments. This specialised procedure incorporates exfoliation, a salicylic acid mask, and delicate extractions.
Our Acne Medi-Facial has been meticulously designed to address your skin's unique needs, infusing it with vital nutrients to restore its innate equilibrium. As a result of this restoration, your skin gains the capacity to initiate its natural healing process for acne and acne scars. Through the integration of time-honoured Chinese massage techniques and acupressure applied to the facial, cranial, and cervical regions, the experience is elevated into one of profound relaxation.
Know what? Our centre is conveniently situated in Whitefield, Bangalore, making Medi-Facial treatments easily accessible to you.
DermaGlo Skin Lightening Medi-facial
Our skin lightening Medi-facial treatment is an advanced procedure incorporating a combination of rejuvenating steps, including exfoliation, the infusion of Vitamin C Serum, and the application of a revitalising mask.
At the heart of this Medi-Facial treatment is the remarkable concept of skin lightening. This approach is grounded in the utilisation of a diverse array of techniques, such as creams, lasers, serums, chemicals, and even oral medications. The collective goal of these methods is to effectively diminish the accumulation of melanin in the skin, leading to a visibly lighter and more even-toned complexion.
DermaGlo Anti-aging Medi-facial
Experience our exclusive DermaGlo Anti-aging Medi-facial treatment in Bangalore, which is a series of Rejuvenation treatment series. Our specialised Medi-facial includes exfoliation, an anti-aging mask enriched with peptides and growth factors. Recognising that everyone's skin is distinct, we cater to your skin's specific requirements, addressing various conditions to bring forth a revitalised, healthier glow. At DermaGlo, we're dedicated to enhancing your skin's potential and revealing its natural beauty through our Medi-facial expertise.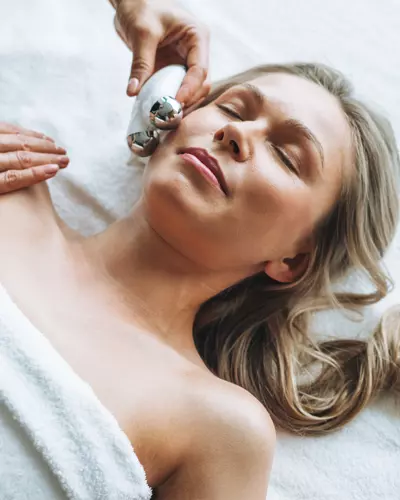 Our state-of-the-art photofacial treatment utilises intense pulses of light (IPL), laser technology, and radio frequency to deeply penetrate the dermis, ensuring remarkable results. Through the harmonious synergy of these energies, collagen and elastin – the fundamental components of your skin – undergo revitalisation, effectively minimising wrinkles, addressing skin discolouration and brown spots, and achieving an overall smoother skin texture.
This process effectively stimulates the production of collagen, a vital protein that diminishes with age, responsible for filling wrinkles and restoring the skin's youthful suppleness.
Elevate your skincare journey with Medi-facial treatment, offered at its finest at our Bangalore Whitefield location.
DermaGlo Hydrating Facial
This specialised treatment focuses on revitalising your skin's health and radiance, providing essential moisture to achieve a dewy, glowing complexion. Whether you're dealing with dryness, irritation, or simply aiming for a luminous look, our Hydrating Medi-facial treatment caters to all.
Hydrating Medi-facial treatment is perfect for those with flaky or rough-feeling skin. In addition, it addresses issues of dullness and excess oil, effectively restoring your skin's moisture balance through water-based, moisture-rich products.
DermaGlo's Famous Face Treatment & Therapy