Medi Facial Treatment Clinic In Bangalore, Whitefield
DermaGlo's Medi Facial Treatment In Bangalore
At DermaGlo, we have the expertise and technology to enhance your regular medi facial treatments.
With the help of peels and laser machines, we will doubly reinforce this treatment to penetrate your skin's layers for a better and longer-lasting effect.
We recommend this procedure as the perfect skincare session to help you relax, prevent bacterial breakouts also combat anti-ageing signs. We DermaGlo consider our clients as family members and we will treat them like them.
Medical-grade facial treatments, also known as Medifacials, are treatments that are designed to treat skin conditions and are safe for all skin types.
DermaGlo Medi facial treatments are tailored to restore and repair the skin, leaving your face feeling hydrated and glowing.
Dermaglo Acne Medifacial takes 30min which include exfoliation, salicylic acid mask, and gentle extractions. Also, we located & Provide our Medi facial treatments in Whitefield Bangalore.
The Acne Medi-Facial is customized to give your skin the nutrition it lacks, so it can find its natural balance.
Once your skin is balanced, your body can start to heal your acne and acne scars. Ancient Chinese massage techniques and acupressure on the face, head, and neck make this a truly relaxing experience.
DermaGlo Skin Lightening Medifacial
Dermaglo Skin Lightening Medi facial treatment include exfoliation, Vit C Serum and a mask.
Skin Lightening works on the principle of using different methods (creams, lasers, serums, chemicals, oral medications, etc.) to reduce the melanin deposition in the skin making it look a tone or lighter.
DermaGlo Anti Aging Medifacial
DermaGlo Anti Aging Medi facial treatment includes exfoliation, anti-aging mask with peptides and growth factors.
Every person's skin is different. Your skin has specific needs. At Dermaglo, our Rejuvenation Treatment Series is designed to improve and awaken your skin, helping you to manage skin conditions and achieve a healthier glow.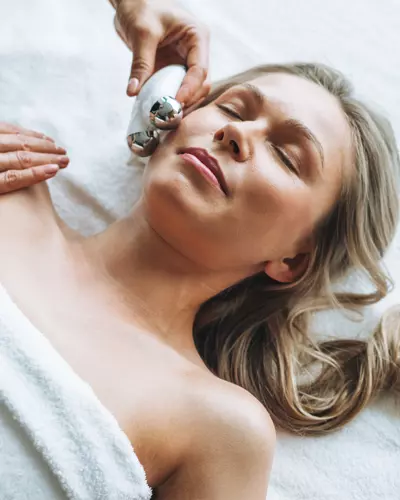 The Foto Facial sends intense pulses of light, laser, and Radio Frequency deep into the dermis.
All this energy acts synergistically to repair collagen (the building blocks of your skin) and elastin, help reduce wrinkles, and get rid of skin discolourations and brown spots. It also helps to smooth out the skin.
The process encourages the production of collagen which we lose as we age a natural protein that fills in wrinkles, making the skin smooth and supple.
We provide the best service for our patients and we are really near to your location, contact us for the medi facial treatments in Bangalore Whitefield. The procedure can be used to treat the face, neck, and body.
With the Foto Facial offered at  DermagloTM, IPL is combined with an Infrared laser and Radio Frequency, which gives optimum performance and maximum results to rejuvenate your skin and fix problem areas such as rosacea, fine lines, brown spots, sun damage, and uneven skin tone.
DermaGlo Hydrating Facial
A hydrating facial is loaded with benefits needed to make your skin look dewy, glowing and healthy.
As the name suggests, hydrating facial hydrates your skin. It brings water content back into your skin and locks that moisture in.
Those experiencing dehydration, dryness, and irritation will benefit most from a hydrating facial.
But it is suitable for anyone looking to get that radiant and supple look. If your skin looks flaky and feels rough to the touch, your skin is dehydrated. Experience the best service for your medi facial treatment in Whitefield Bangalore.
If your skin looks dull and more oily than usual, your skin is dehydrated. Products used in a hydrating facial are directed toward treating this dehydration.
The formula of these products is water-based and consists of moisture-rich ingredients that help retain the skin's moisture balance and prevent any moisture from seeping out.
DermaGlo's Famous Face Treatment & Therapy