Acne is a chronic, inflammatory skin condition that causes spots and pimples, especially on the face, shoulders, back, neck, chest, and upper arms.Whiteheads, blackheads, pimples, cysts, and nodules are all types of acne. It is the most common skin condition in the United States, affecting up to 50 million Americans yearly. It commonly occurs during puberty, when the sebaceous glands activate, but it can occur at any age. It is not dangerous, but it can leave skin scars.
New hair normally replaces the lost hair, but this doesn't always happen. Hair loss can develop gradually over years or happen abruptly. Hair loss can be permanent or temporary. It's impossible to count the amount of hair lost on a given day. You may be losing more hair than is normal if you notice a large amount of hair in the drain after washing your hair or clumps of hair in your brush. You might also notice thinning patches of hair or baldness.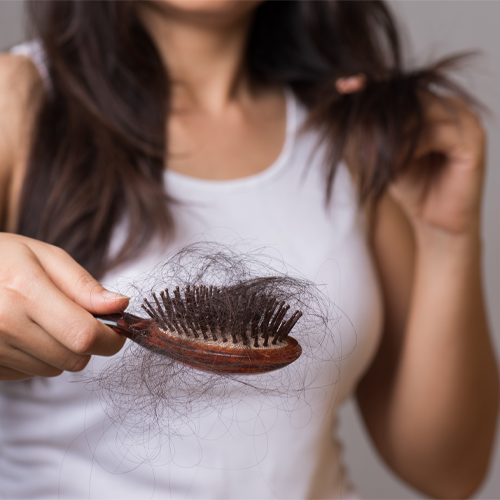 Psoriasis is the result of a sped-up skin production process. Typically, skin cells grow deep in the skin and slowly rise to the surface. Eventually, they fall off. The typical life cycle of a skin cell is one month. In people with psoriasis, this production process may occur in just a few days. Because of this, skin cells don't have time to fall off. This rapid overproduction leads to the buildup of skin cells.
Hyperpigmentation is a medical term used to describe darker patches of skin. These patches result from excess melanin production, which can be caused by everything from acne scars and sun damage to hormone fluctuations. If you're dealing with hyperpigmentation, know that you aren't alone. Hyperpigmentation is a common skin condition, and there are a number of different treatment options available.
Vitiligo is a condition in which white patches develop on the skin. Any location on the body can be affected, and most people with vitiligo have white patches on many areas.The skin doesn't have its characteristic color because it has lost its melanin. For some reason, the pigment-forming cells known as melanocytes have been destroyed.
Rosacea is a chronic, inflammatory skin condition that most often affects the face. Rosacea worsens with time if left untreated. It is often mistaken for acne, eczema, or a skin allergy. Rosacea appears to be more common among fair-skinned people. Although the causes are not fully understood and there is no cure, there are a number of ways to relieve symptoms.
Your skin is the largest organ of your body. Its function is to protect your body from infection. Sometimes the skin itself becomes infected. Skin infections are caused by a wide variety of germs, and symptoms can vary from mild to serious. Mild infections may be treatable with over-the-counter medications and home remedies, whereas other infections may require medical attention